5/1 Adjustable Rate Loan Special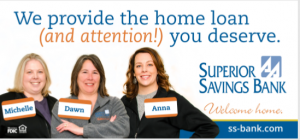 ADJUSTABLE RATE MORTGAGES
| | | |
| --- | --- | --- |
| ARM Loan Program | Rate | APR** |
| 5 year adjustable (5/1 ARM) | 1.99% | 2.104% |
Promotion is for a limited time only and is subject to change or be discontinued at any time.  All loans are subject to credit and underwriting approval. 
**APR = Annual Percentage Rate
For adjustable-rate loans, your monthly principal and interest payment will be fixed for a period of time, and then may change based on annual interest rate adjustments. Before choosing an ARM, you should decide if you can manage the maximum estimated payment if the rate increases. To fully understand minimum and maximum payments, please speak to one of our mortgage loan officers.  The initial rate of the 5-year adjustable rate loan is set at 1.99%.  After the initial fixed rate period, the rate may adjust.  The new rate for the 5-year adjustable rate loan will be calculated based on the index of the 1-year T-Bill, plus a margin of 2.875%.  The maximum rate over the life of the loan is the original rate plus 6%.  The minimum rate over the life of the loan is 1.99%.
– Up to a 30-year amortization.
– NMLS #433894
1130 Tower Ave
Superior WI 54880
715-394-7778