ATM/Debit Card/Credit Card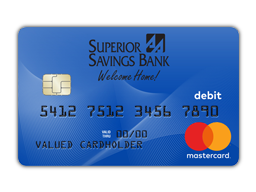 ATM/DEBIT CARD
Checking has changed for the better with your new ATM/Debit Card® card. It works just like your checkbook only it's faster, easier and more convenient than writing a check. Your ATM/Debit Card® card looks like a credit card but works like your check because the purchase amount is automatically deducted from your checking account.
The ATM/Debit Card® card is the premier ATM card because it is accepted wherever you see the MASTERCARD® sign. Simply present your card and sign your name. It's that easy!
No check writing means no need to carry a bulky checkbook. No need to show multiple forms of identification. Record keeping is easier. When you make a purchase or ATM transaction with your ATM/Debit Card® card you'll receive a receipt and all the details will be listed on your monthly statement.
To Report A Lost or Stolen ATM/Debit Card
Phone: 1-800-472-3272 anytime or 715-394-7778 during our regular business hours.
*Not all services available at all ATMs. See your financial institution for more information.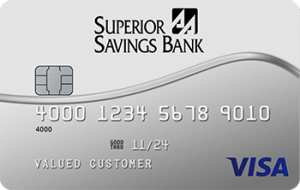 CREDIT CARD
Superior Savings Bank is proud to partner with Banker's Bank to introduce the Banker's Bank Credit Card to our customers. With various options to choose from, the low interest rate credit cards offered by Banker's Bank provide an easy way to gain access to a credit card for existing Superior Savings Bank customers. Banker's Bank offers both Consumer and Business credit card options, so take a look at what card may be right for your lifestyle!
Credit score requirements for approval of all Consumer credit cards range from Average to Good credit at the time of application.
To apply for a Banker's Bank credit card, and to explore all the perks and benefits of the program, please visit  Apply for a Visa® Credit Card | Superior Savings Bank (yourcommunitycard.com). Banker's Bank is responsible for all approvals or denials of credit card applications.