ATM/Debit Card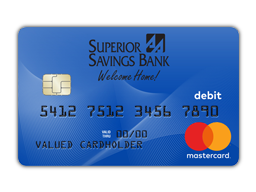 Checking has changed for the better with your new ATM/Debit Card® card. It works just like your checkbook only it's faster, easier and more convenient than writing a check. Your ATM/Debit Card® card looks like a credit card but works like your check because the purchase amount is automatically deducted from your checking account.
The ATM/Debit Card® card is the premier ATM card because it is accepted wherever you see the MASTERCARD® sign. Simply present your card and sign your name. It's that easy!
No check writing means no need to carry a bulky checkbook. No need to show multiple forms of identification. Record keeping is easier. When you make a purchase or ATM transaction with your ATM/Debit Card® card you'll receive a receipt and all the details will be listed on your monthly statement.
Easy to apply.
To get your ATM/Debit Card® card, simply download, fill out and return the online application form. You can mail it or just drop it off at our Superior Savings Bank office.
To Report A Lost or Stolen ATM/Debit Card
Phone: 1-800-472-3272 anytime or 715-394-7778 during our regular business hours.
*Not all services available at all ATMs. See your financial institution for more information.